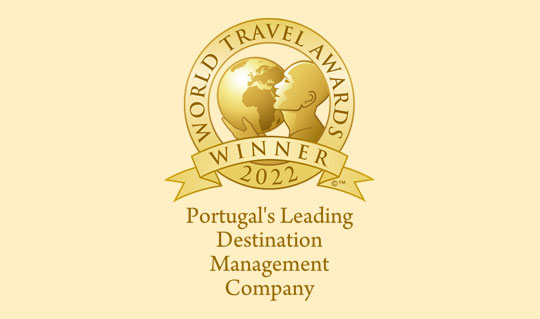 World Travel Awards 2022
We are honored to announce that Abreu Events won the prize of "Portugal's Leading Destination Management Company 2022", recognition of our work that began in 1978 and hopefully will continue to thrive for many years to come. We've been a case study of success that has crossed generations and constantly adapting itself, always providing innovative and creative solutions.

Portugal collected three dozen awards, with emphasis on the distinction of Best European Destination. The Algarve was voted Best Beach Destination, Porto stood out as Best City Destination and Lisbon as Best City Break Destination.

The ceremony of the 29th European edition of these prestigious international awards was held on 3rd October on the Spanish island of Mallorca and precedes the world grand final in November. Portugal won 30 awards, including Best Destination in Europe.

Lisbon won four awards: Best Metropolitan Destination by the Sea, Best City Break Destination and Best Cruise Destination, to which the Port of Lisbon was awarded the prize for Best Cruise Port in Europe. Porto stood out as the Best City Destination and the Algarve was elected the Best Beach Destination.

The World Travel Awards are considered the "Oscars" of tourism and are the result of an online vote, in which the general public and thousands of tourism and travel professionals worldwide participated.