News
Abreu Events Destination Management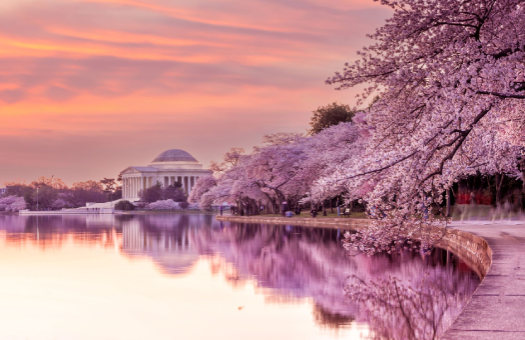 Washington D.C & it's cherry blossoms Spring Time
Spring is a wonderful season to enjoy the outdoors, but Washington DC celebrates spring offering fun outdoor activities surrounded by beautiful cherry blossoms.
The capital State hosts the greatest springtime in the US with the National Cherry Blossom Festival to honor the beauty of pinkish cherry trees, from late March to mid-April. You can combine the blooming season with unique dining scenes, having the waterfront of Tidal Basin as a backdrop, with one of the local tours to see more closely the pink stars of spring, taking home with you the most colorful and perfect memories of DC.

The best way to see the cherry blossom trees, without getting tired is on top of a bike or segway; we'll start at the Jefferson Memorial one of the most iconic monuments in D.C which gets completely covered in pink trees. Then we'll make our way to the East Potomac promenade to see Franklin Delano Roosevelt and Martin Luther King Memorials. Our final sites will be the National Mall and the Memorial Park, passing by the Lincoln Memorial and Washington Monument.