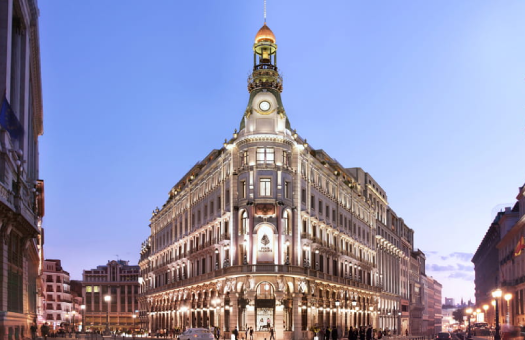 Distinct and Luxurious Retreats Hotel Openings in Spain
The Four Seasons Hotel Madrid, opened its doors on the 25th of September 2020, it has an unbeatable location, exactly in the historic and commercial beating heart of the Spanish Capital, Centro Canalejas.
This majestic hotel unites seven historic buildings, all impeccably restored and reimagined. The oldest part of the complex, was originally El Palacio de la Equitativa, dating back to the 1887 – imposing rotunda topped with copper cupola, towers over the corner of Calle de Sevilla and Calle de Alcalá. Another impressive feature is the neighboring façade of the Banco Hispano Americano headquarters, begun in 1902 and today it's forming the main entrance to the luxury shops of Galería Canalejas. Yet, the building is fulfilled with unique discoveries, resulting in 3700 original artifacts restored and reinstalled, including intricate stone floors, fireplace, original bank teller counters and 14-tone safe.

In terms of accommodations the hotel offers 200 rooms, including 39 suites – a few of them with two levels and others with step-out balconies or spacious private terraces. The seventh floor safeguards a marvelous rooftop fine dining concept, by Spanish celebrity chef Dani García with three Michelin Stars, serving traditional Andalusian cuisine. On the first floor you'll find Gastro Bar Isa, serving contemporary tapas with an Asian twist and El Patio Lobby Bar for laid-back drinks and casual dining.

When it comes to hosting meetings, product launches or gala dinners, the hotel has 9 spacious meeting rooms including two ball room with the capicity up to 600 guests, all grouped on the second floor, with natural light and city views.

Palma de Mallorca will open during this upcoming summer its first luxury boutique hotel in the charming rural town of Santanyí in the south-east of the island. Can Ferrereta is a converted 17th century mansion into a paradise of architecture, design and contemporary art.

However, the building never lost its cultural identity, exposed beams and stone walls are a nod to its rustic roots. There's a sophisticated simplicity aura felt throughout the property, bringing peace into rural spaces of a former family home. Art is another defining feature of the hotel, focusing on the local and Spanish artists. A few pieces are from owner's private collection, which includes works of Guillem Nadal, Dominica Sanchez, Miquel Planas, Manolo Ballesteros, Riera i Aragó and Jordi Alcaraz just to mention a few. Additionally, contemporary photography by Barbara Vidal showing photos of the original building adorning the walls.

The artsy feel continues in the rooms, as a result of the original details, each room is unique and with an individual design or contemporary art decorating it. The 32 rooms and suites, have high ceiling and radiant natural light surrounded by magnificent landscape, which can be terrace, private garden, views of the pool or traditional Mallorcan courtyard. Other amenities of this pearl hotel, include a restaurant which occupies a former wine cellar with wooden beams and original stone arches, an outdoor salt water swimming pool, and a sassy pool bar.