News
Abreu Events Destination Management
Abreu Events Clean & Safe Renewal Health Measures for Portugal 2021
Portugal's Tourism Board (Turismo de Portugal) created the "Clean & Safe program - Establishment Complying with Health Measures". The Clean & Safe program intends to identify and certify that DMCs, hotels, restaurants, venues, shops and touristic activities in general, are complying with the implemented health and safety COVID-19 prophylactic measures.
​Portugal was the first country in Europe to get the "Safe Travels" badge, recognizing our commitment with providing safety to all travelers, all entities certified with the Clean & Safe stamp are also recognized as Safe Travels Companies.

Abreu Events Portugal has a Clean & Safe certification, guaranteeing that we are complying with all health & safety measures implemented and recommended by the Portuguese Health Authority. For more information, please scan the QR below.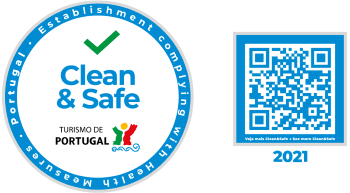 Click
here
to read about our Portugal's Contingency Plan and update on allowed capacities for our services.